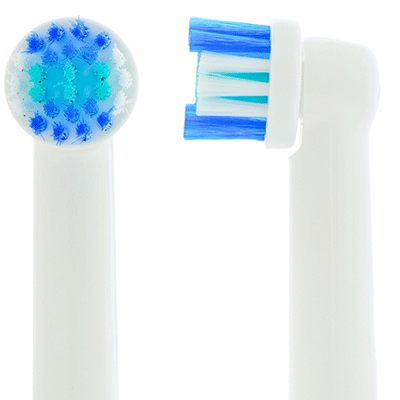 Frequently Asked Questions
1. Why are Dentos brush heads better than others?
Dentos brush heads are of better quality because they are produced to be as good as possible, not as cheap as possible. We only use the best materials for our brushes and we produce them in a sterile environment to ensure optimal hygiene. For more information and explanation of the quality of our product we kindly refer you to our extensive quality information page.
2. Do you offer Sensitive / Kids (Stages) brush heads for Oral-B handles?
Yes! Since 2017 we can offer Sensitive Clean brush heads from stock and Kids Clean heads on order.
3. Do you carry replacement heads for Philips / Sonicare?
Yes! Since 2017 we can offer replacement heads for Philips Sonicare toothbrushes as well. They are produced with the same high standards of quality and hygiene as our other products.
4. Do you offer Dual Clean, Floss Action, Cross Action brush heads as well?
No. Our brush heads have a perfect fit with the Oral-B handles but they are not copies of the Oral-B heads. The Dual Clean, Floss Action and 3D White brush heads all have a very distinct design that is the property of Oral-B and may not be copied. Despite the illegality, such replacement heads are being sold by some other parties (online) but we would like to emphasize that sellers that do not mind the law, usually do not mind the quality and service very much either.
5. I have a shop / webshop. Can I sell Dentos brush heads in my store?
Yes, you can. We supply our Dentos branded heads to the largest and the smallest stores and online shops. Please contact us for more information.
6. Do you supply to dental practices / dental professionals?
Yes. We supply our Dentos replacement heads to a few dozen dental practices in The Netherlands. They are mostly used for instructional purposes and are given to the patients to take home afterwards. We supply them in retail packs of 2 or 4 pieces, so they can be sold at the counter as well. Dutch Dental professionals can obtain a login and order directly through our Dentos-4-Dentists page. If you are located elsewhere, please request a login through the contact form.
7. What kind of packaging can we order?
The packaging depends entirely on our customers' requirements. We offer blister cards, clam shell blisters, PETG boxes or we can develop a custom package in the reqested sales quantity.